Posts for: March, 2015
By Middleboro Family Dental Inc
March 17, 2015
When you think of saliva, the word "amazing" probably doesn't come to mind. But your life and health would be vastly different without this "wonder" fluid at work in your mouth.
Saliva originates from a number of glands located throughout the mouth. The largest are a pair known as the parotids, located just under the ears on either side of the lower jaw, which produce a thin and watery liquid. The sublingual glands under the tongue produce thicker saliva with a mucous secretion; the saliva from the submandibular glands located under the lower jaw has a consistency somewhere between that of the parotids and the sublingual glands. All these different consistencies of saliva combine to produce a fluid rich in proteins, enzymes, minerals and antibodies.
Saliva performs at least five basic functions in the mouth. First, it washes away food particles after eating and reduces the amount of sugar available for decay-causing bacteria to consume. It protects and disinfects the mouth with antibodies, proteins and enzymes that fight against and help prevent the growth of bacteria. Saliva neutralizes high acidity levels in the mouth, necessary to prevent enamel erosion from acid; and when enamel has softened due to acidity (de-mineralization), the calcium and other minerals in saliva help restore some of the enamel's lost minerals (re-mineralization). Saliva also aids in digestion by lubricating the mouth and helping the body break down starches in food with its enzymes.
In recent years, scientists have also gained insight into another property of saliva that promises better disease diagnosis in the future. Like blood and urine, saliva contains biological markers for disease. As more diagnostic machines calibrated to these specific markers are developed and used, it could signal a more effective way to identify conditions from saliva samples that are easier to collect than other bodily fluids.
Its less than glamorous image aside, your mouth would be quite a different (and unhealthy) place without saliva. And, developments in diagnostics could make this unsung fluid even more valuable in maintaining your health.
If you would like more information on the importance of saliva to oral health, please contact us or schedule an appointment for a consultation. You can also learn more about this topic by reading the Dear Doctor magazine article "Secrets of Saliva."
By Middleboro Family Dental Inc
March 06, 2015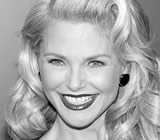 Fracturing back molars is an experience no one ever wants to have. But when a helicopter crashed during a back country ski trip, supermodel Christie Brinkley soon discovered that she had fractured two molars. Fortunately for Christie, her oral health was restored with two dental implants. As she said during an interview with Dear Doctor magazine, "I am grateful for the dental implant technology that feels and looks so natural."
While Christie's dental implants replaced back teeth, we routinely use them to replace both back and the more visible front teeth. But best of all, we have demonstrated expertise at making dental implant crowns look real. This is where we meld science and artistry.
What drives the most natural and beautiful result is how the crown (the visible, white portion of a tooth) actually emerges through the gum tissues. We also match the adjacent teeth identically in color, appearance, shape and profile. But we can't take all the credit, as it takes an entire "behind-the-scenes" team to produce dazzling results. Choice of materials, the laboratory technician (the person who actually handcrafts the tooth), the expertise we use in placing a dental implant crown and the total quality of care we provide are the ingredients necessary for success.
Another critical factor required is ensuring there is enough bone volume and gum tissue to support an implant. Both of these must also be in the right position to anchor an implant. However, if you do not have adequate bone volume, you may be a candidate for a minor surgical procedure to increase your bone volume through bone grafting or other regenerative surgical techniques.
To learn more about dental implants, continue reading the Dear Doctor magazine article "Matching Teeth & Implants." Or you can contact us today to schedule an appointment so that we can conduct a thorough examination, listen to your concerns, answer your questions and discuss treatment options. And if you want to read the entire feature article on Christie Brinkley, continue reading "The Secret Behind Christie Brinkley's Supermodel Smile."