Posts for: April, 2015
By Middleboro Family Dental Inc
April 16, 2015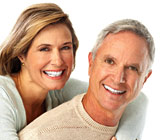 A generation ago, hearing the term, "smile makeover," would most likely have resulted in questions and puzzled looks. However, through the power of both the media and celebrities, today it has become a common household term with over 70% of all inquiries coming from people in the 31 to 50 year old age group, according to the American Academy of Cosmetic Dentistry (AACD). While some people seek cosmetic dentistry purely to boost their self-esteem, others pursue it to improve first impressions during business and social interactions, as many studies have revealed that first impressions are the ones that typically last the longest.
The AACD study also revealed other interesting statistics that support why a smile makeover is a wise choice that can yield a life-changing return on your investment — you!
99.7% of Americans believe a smile is an important social asset.
74% feel an unattractive smile can hurt chances for career success.
50% of all people polled were unsatisfied with their smile.
Another important study recently conducted by Beall Research & Training, Inc., an independent marketing research firm, used before and after photos of smile makeovers for polling purposes. The research found that people who have had a smile makeover are viewed by others as more attractive, intelligent, happy, successful in their career, friendly, interesting, kind, wealthy, and appealing to the opposite sex. This evidence clearly proves just how important a first impression can be as well as what it can silently communicate about you.
Want to learn more?
Contact us today to discuss your smile makeover questions or to schedule a consultation. We look forward to meeting with you to learn about your specific concerns and to show you what we can do for you. You can also learn more by reading the Dear Doctor article, "The Impact Of A Smile Makeover."
By Middleboro Family Dental Inc
April 01, 2015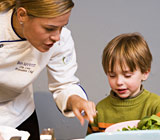 When Cat Cora is not doing battle as the first female chef on the Food Network's hit series Iron Chef America, she is busy caring for the needs of her four active young sons. This includes monitoring the food they eat and their oral hygiene habits.
The busy chef, restaurateur, author, philanthropist and television personality recently revealed in an interview with Dear Doctor magazine that it all started when her four sons were little. She got rid of bottles and sippy cups as soon as possible to prevent tooth decay. She also started exposing her boys to a wide variety of spices and foods when they were infants — for example, by putting cinnamon in their baby cereal. Cat limits the amount of sugar in their diet by using fruit puree in baked goods and BBQ sauces, or the natural sugar substitute Stevia. Furthermore, Cat reports, "my kids have never had fast food."
Cat is right on target with her approach to her children's oral health. In fact, we are often asked, when is the right time to schedule a child's first dental appointment? Our answer surprises some people — especially those expecting their first child.
The ideal time to take your child to the dentist is around age 1. Why so young? A baby's first visit to the dentist sets the stage for lifelong oral health. Besides, tooth decay can start very early. Baby Bottle Tooth Decay (BBTD), as the name suggests, impacts children who often go to sleep sipping a bottle filled with a liquid containing natural or added sugars, such as formula, fruit juice or a fruity drink mix. Another condition, Early Childhood Caries (ECC), is often found in children who continuously use sippy cups (again, filled with sugary liquids), children who breast feed at will throughout the night, children who use a sweetened pacifier, and children who regularly take sugar-based oral medicine to treat chronic illness.
To learn more about this topic, continue reading the Dear Doctor magazine article "Age One Dental Visit." Or you can contact us today to schedule an appointment. And to read the entire interview with Cat Cora, please see the article "Cat Cora."