Posts for: October, 2017
By Middleboro Family Dental Inc
October 29, 2017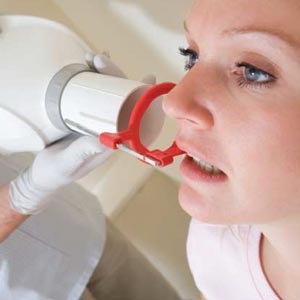 It's difficult to measure how x-ray imaging has transformed dentistry since its use became prominent a half century ago. As equipment and methods standardized, the technology revolutionized the way we diagnose tooth decay and other mouth-related issues.
One of the more useful of these methods is called the bitewing x-ray. The term comes from the shape of the device a patient holds between their teeth with the film attached on the side toward their tongue. We direct the x-ray beam to the outside of the patient's cheek, where it passes through the teeth to expose on the film. Its particular design provides clearer images since the patient's bite helps keep the film still and distortion-free, making it easier to view signs of early tooth decay.
Bitewing x-rays usually consist of four films, two on either side of the mouth, necessary to capture all of the teeth (children with smaller jaws, however, often only require one film per side). How frequently they're conducted depends on a number of factors, including the patient's age: children or young adolescents are usually filmed more frequently than adults, usually every six to twelve months. Frequency also depends on a patient's particular decay risk — the higher the risk the more frequent the x-ray.
Regardless of how often they're performed, a similar application principle applies with bitewing x-rays as with any other radiological method: As Low As Reasonably Achievable (ALARA). With the ALARA principle in other words, we're looking for that sweet spot where we're able to detect the earliest stages of dental disease with the least amount of radiation exposure.
Bitewings fit this principle well: a patient receives only a fraction of the radiation exposure from a four-film bitewing as they do from a daily dose of environmental radiation. Factor in new digital technology that reduces exposure rates and bitewings pose virtually no health risk to patients, especially if conducted in a prudent manner.
The benefits are well worth it. Thanks to bitewing x-rays we may be able to diagnose decay early and stop it before it causes you or your family member extensive tooth damage.
If you would like more information on the importance of x-rays in dentistry, please contact us or schedule an appointment for a consultation.
By Middleboro Family Dental Inc
October 14, 2017
Your teeth and gums have a highly sensitive network of nerves. But while it can signal even the most subtle discomfort we may not be able to identify the cause with pinpoint accuracy. As a result, tooth pain could indicate more than one kind of problem including a decayed tooth, root sensitivity, infected gum tissues (like an abscess) or a dying pulp signaled by diseased nerve tissue inside the tooth.
On the other hand, not all tooth pain is the same: it can be dull or sharp, continuous or intermittent. It can feel like a constant, throbbing ache or a sharp wince when you eat or drink something cold or hot, or when you bite down. These differences could point our diagnostic examination in the right direction.
For example, sharp, throbbing pain could indicate deep tooth decay, especially if it suddenly stops. That would likely mean the nerves within the tooth pulp under attack by the infection have died and can no longer transmit pain. The infection, on the other hand is still very much active — this usually requires a root canal treatment (cleaning out the pulp and root canals of diseased and dead tissue and filling the empty spaces) if we're to save the tooth.
If, however, you're experiencing sensitivity from temperature or pressure, we could be facing at least a couple of scenarios. For one, your tooth could be fractured. More likely, though, periodontal (gum) disease triggered by bacterial plaque has caused the gum tissues to shrink back (recede) from the affected teeth so that the sensitive dentin layer is exposed and no longer protected by the gum tissue.
If we diagnose gum disease, we'll need to aggressively remove bacterial plaque from all tooth and gum surfaces. This procedure might require more than one appointment and the possibility of surgery if we encounter deep pockets of infection, especially around the roots. If gum recession is severe you may also need grafting surgery to replace the missing gum tissue or to re-cover the exposed areas of your teeth.
So, knowing the source of tooth pain will direct the course of treatment to follow. With proper treatment, though, the chances are good we can not only restore your teeth and gums to optimum health but we can end the pain.
If you would like more information on treating tooth pain, please contact us or schedule an appointment for a consultation. You can also learn more about this topic by reading the Dear Doctor magazine article "Confusing Tooth Pain."