Posts for tag: pediatric dentistry
By Middleboro Family Dental Inc
March 02, 2017
Cavities can happen even before a baby has his first piece of candy. This was the difficult lesson actor David Ramsey of the TV shows Arrow and Dexter learned when his son DJ's teeth were first emerging.
"His first teeth came in weak," Ramsey recalled in a recent interview. "They had brown spots on them and they were brittle." Those brown spots, he said, quickly turned into cavities. How did this happen?
Ramsey said DJ's dentist suspected it had to do with the child's feedings — not what he was being fed but how. DJ was often nursed to sleep, "so there were pools of breast milk that he could go to sleep with in his mouth," Ramsey explained.
While breastfeeding offers an infant many health benefits, problems can occur when the natural sugars in breast milk are left in contact with teeth for long periods.  Sugar feeds decay-causing oral bacteria, and these bacteria in turn release tooth-eroding acids. The softer teeth of a young child are particularly vulnerable to these acids; the end result can be tooth decay.
This condition, technically known as "early child caries," is referred to in laymen's terms as "baby bottle tooth decay." However, it can result from nighttime feedings by bottle or breast. The best way to prevent this problem is to avoid nursing babies to sleep at night once they reach the teething stage; a bottle-fed baby should not be allowed to fall asleep with anything but water in their bottle or "sippy cup."
Here are some other basics of infant dental care that every parent should know:
Wipe your baby's newly emerging teeth with a clean, moist washcloth after feedings.
Brush teeth that have completely grown in with a soft-bristled, child-size toothbrush and a smear of fluoride toothpaste no bigger than a grain of rice.
Start regular dental checkups by the first birthday.
Fortunately, Ramsey reports that his son is doing very well after an extended period of professional dental treatments and parental vigilance.
"It took a number of months, but his teeth are much, much better," he said. "Right now we're still helping him and we're still really on top of the teeth situation."
If you would like more information on dental care for babies and toddlers, please contact us or schedule an appointment for a consultation. You can also learn more by reading the Dear Doctor magazine articles "The Age One Dental Visit" and "Dentistry & Oral Health for Children."
By Middleboro Family Dental Inc
April 01, 2015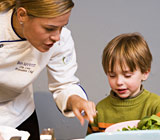 When Cat Cora is not doing battle as the first female chef on the Food Network's hit series Iron Chef America, she is busy caring for the needs of her four active young sons. This includes monitoring the food they eat and their oral hygiene habits.
The busy chef, restaurateur, author, philanthropist and television personality recently revealed in an interview with Dear Doctor magazine that it all started when her four sons were little. She got rid of bottles and sippy cups as soon as possible to prevent tooth decay. She also started exposing her boys to a wide variety of spices and foods when they were infants — for example, by putting cinnamon in their baby cereal. Cat limits the amount of sugar in their diet by using fruit puree in baked goods and BBQ sauces, or the natural sugar substitute Stevia. Furthermore, Cat reports, "my kids have never had fast food."
Cat is right on target with her approach to her children's oral health. In fact, we are often asked, when is the right time to schedule a child's first dental appointment? Our answer surprises some people — especially those expecting their first child.
The ideal time to take your child to the dentist is around age 1. Why so young? A baby's first visit to the dentist sets the stage for lifelong oral health. Besides, tooth decay can start very early. Baby Bottle Tooth Decay (BBTD), as the name suggests, impacts children who often go to sleep sipping a bottle filled with a liquid containing natural or added sugars, such as formula, fruit juice or a fruity drink mix. Another condition, Early Childhood Caries (ECC), is often found in children who continuously use sippy cups (again, filled with sugary liquids), children who breast feed at will throughout the night, children who use a sweetened pacifier, and children who regularly take sugar-based oral medicine to treat chronic illness.
To learn more about this topic, continue reading the Dear Doctor magazine article "Age One Dental Visit." Or you can contact us today to schedule an appointment. And to read the entire interview with Cat Cora, please see the article "Cat Cora."
By Middleboro Family Dental Inc
April 17, 2014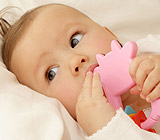 Throughout your child's lifetime, you will experience many important milestones together, some more pleasant than others. Teething is one of those notable milestones, and unfortunately, this "rite of passage" may cause your baby to feel uncomfortable at times.
Teething describes the tooth eruption process by which baby teeth emerge through the gums and into the mouth. It usually begins when your baby is between six and nine months, but may start as early as three months or as late as twelve months. Most children will have all 20 baby teeth by agree three, with the lower front teeth erupting first, followed by the two upper front teeth and then the molars.
Every baby will experience teething differently, but the following symptoms are very common:
Irritability
Biting and gnawing
Gum swelling
Chin rash
Disrupted sleeping patterns
Ear rubbing
Drooling
Decreased appetite
Many babies make it through the teething phase without much discomfort, but sometimes the pain can be substantial. If your baby is lucky enough to experience no discomfort, he or she will likely demonstrate some of the classic symptoms of teething, such as swollen gums and drooling. You may also notice that he or she will bite or chew anything and will wake up frequently during the night. These symptoms occur most often the week the teeth actually break through the gums, beginning four days before the eruption and lasting about three days after.
Here are a few suggestions to help reduce your baby's discomfort during teething:
Teething rings: The American Academy of Pediatric Dentistry (AAPD) recommends that parents use a clean, chilled, rubber teething ring or cold wet washcloth.
Chilled pacifiers: Be careful not to freeze teething rings or pacifiers, as ice can burn if left in place too long.
Gum massage: Massaging inflamed gums with your clean finger may be helpful to reduce the pressure.
Over-the-counter medicine: If pain continues, you can give your baby acetaminophen or ibuprofen, but check with a pediatrician or pharmacist for the correct dosage. The medicine should be swallowed and not massaged into the sore areas, as this, too, can burn.
Other unpleasant side-effects of teething include diarrhea, rashes and fever. Though many have reported these symptoms to be normal, if your infant has fever or diarrhea during teething or continues to experience pain, you should schedule an appointment with our office. We'll examine your baby to ensure that the discomfort is related to teething and not something more serious.
If you would like more information about teething, please contact us for a consultation. You can also learn more by reading the Dear Doctor magazine article "Teething Troubles."